Stone door surround restoration, London terraced house
Pictured: Stone door surround restored in Brixton by London Stonemasonry
The London Stonemasonry team rebuilt and restored the stone door surrounds of two neighbouring Victorian-era terraced houses in Brixton. This included repairing and restoring the columns, the canopy and the intricate capitals – the decorative elements found at the top of the columns in the door surround.
Before and after photo of the door surround restoration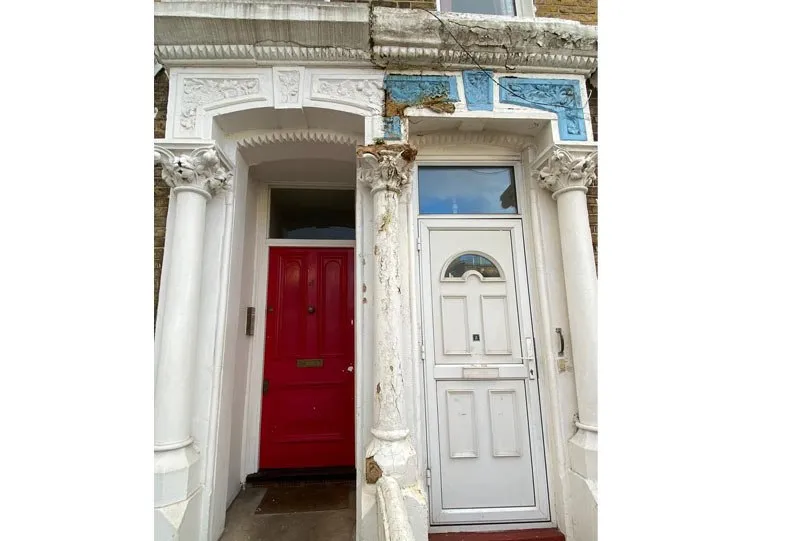 Pictured: Before and after photo of the stone door surround restoration in Brixton, SW2
About our work on this project
The new owner of one of the properties had agreed with their neighbour that their shared door surrounds were in a poor state, and needed restoration.
Over many years, the surrounds had not been maintained. Rainwater had saturated the header sections which had begun to pull away from the facade. The stone surrounds were decaying, pieces were falling off and the structure was losing integrity.
Pictured: A closer look at a capital stone in the decaying stone door surround
The owners then contacted London Stonemasonry. We visited, examined the surrounds and discussed solutions.
It was decided that while some parts would be need to be fully replaced, others areas were solid enough to be repaired.
We took etchings of the remaining solid sections, and, after asking permission, from the door surrounds of other houses on the street.
Then we translated these etchings into templates and began recreating the replacement carved bath limestone sections in our workshop.
Once ready, we installed the the sections of stone, which then allowed the restoration of the damaged areas to begin.
To recreate the detailed, ornate, stone sections, we applied specialist materials in layers and built them up over time. It was a process of applying the materials, working them, allowing sufficient drying time and repeating, until the final details could be carved and shaped into place.
Once fully cured, the stone was painted and decorated, making the double surround look as good as new.
This project took three weeks to complete. Warm weather helped to minimise our time on site.
Pictured: Left – an example of a repaired column. Right – a restored column before painting
The restored stone door surrounds
Pictured: The painted, restored stone door surrounds by London Stonemasonry
See also
Project summary
The London Stonemasonry team restored the bath stone door surrounds of two neighbouring Victorian-era terraced houses in Rattray Road, Brixton, south west London. Postcode: SW2.
More projects