In 2023, the London Stonemasonry team are busier than ever. If you have a project for us, or need some stonemasonry advice, please do get in touch.
On our portfolio page, you can view a few examples of our residential and commercial work.
In 2022 we were proud to work on so many interesting and varied projects across London. On this page we're highlighting three of our favourites from '22. We've selected two residential jobs, and one for a commercial client.
Terraced house transformation, Stratford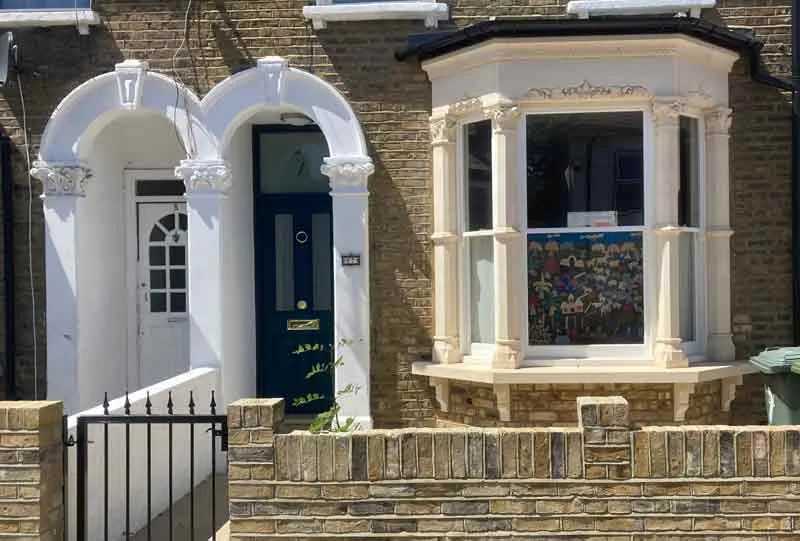 Pictured: Victorian-style bay window created and installed by London Stonemasonry. Amity Road, E15.
London Stonemasonry transformed the appearance of a terraced home on Amity Road, Stratford. We removed the UPVC windows, replaced them with a new hand-carved Victorian-style bay window and much more.
Why it's one of our favourite residential jobs from 2022: "It looks fab and the client was very pleased – another great testimonial too. We pointed the brickwork, replaced bricks, built a new bay window in the exact style of the original, paved the front garden, put a new step in, built a new wall, repaired and decorated the porch and entrance surround. Really encapsulates the breadth and expertise of our team in one project."
Front gable rebuild, Richmond upon Thames
Pictured: Front gable rebuild by London Stonemasonry, Richmond upon Thames, London, SW13
London Stonemasonry rebuilt and restored the front gable brick and stone work of a period home in Richmond upon Thames, London, SW13. We  saved and restored the broken stone insert, carved new stone elements and installed them when we rebuilt the front gable, and much more.
Why it's one of our favourite residential projects from 2022: "This job came out brilliantly. There was a lovely blend of CAD (computer aided design) to recreate angles and curves combined with the masonry skills in our workshop. The install went like a dream as we'd put in the work with the precise measurements needed to create the drawings. And our stonemasons' skills turned the templates into actual carved stone. Everything fitted together perfectly."
Statue restorations, Aldwych Theatre, West End
Pictured: Statues cleaned by London Stonemasonry on the roof of the Grade II listed Aldwych Theatre
London Stonemasonry cleaned and restored the statues on the roof of the Grade II listed Aldwych Theatre in London's West End. Much of the commercial work we do is major facade restoration, so our third selection is an example of a smaller project that requires a lot of expertise. We also built a good working relationship with the new client, architects and surveyors involved.
Why it's one of our favourite commercial projects from 2022: "We brought these old statues back to life through specialist stonemasonry methods; using layers of poultice and latex. The architect's specifications were clear and exacting – and we were pleased to be able to rise to the challenge. When we began, the statues were filthy with years of carbon staining. The statues now look 100 times better."
See also